I'm doing advertising for a friend's band called Whyzdom.
The WHYZDOM project started in early 2007. Vynce Leff, more known in the progressive area, for producing several albums signed on the british label CYCLOPS RECORDS (bands : SAENS, SENSITIVE TO LIGHT), decided to start a new metal band with symphonic elements. After auditioning many singers to fit the particular sound of the first compositions, he meets Telya, a young singer/actress, fond of metal and symphonic music as well as theater. Finding the rest of the band happens very quickly, since Vynce has many contacts among other bands he collaborated with : Regis Morin and Tristan Demurger join WHYZDOM in February, then Nico Chaumeaux (a talented drumming teacher) and Marc Ruhlmann. Anthony Lopes takes care of the sound engineering.
Their first demo called
Daughter of the Night
received very good reviews in metal magazines, fanzines et websites opening them the gates of the french stages.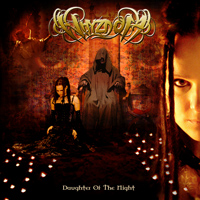 Daughter Of The Night - Limited Edition 4 titles
1 - The Witness
2 - Daughter Of the Night
3 - The Train
4 - On The Wings Of Time
Whyzdom was also selected to appear on a compilation published by the french website Heavylaw. The cd is called
Tales from different worlds
Their debut album
From The Brink Of Infinity
is almost finished and will soon be released.
For those willing to see Whyzdom live outside France, you will be able to see them at the METAL FEMALE VOICES FEST !!! - Wieze - Belgique on 17/10/2009
If you want more information, please visit their official website
http://www.whyzdom.com/